Malaysia plane crash: St James' Park memorial service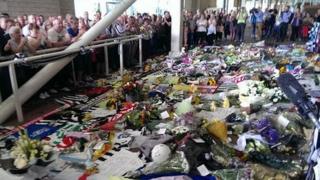 A memorial service in honour of two Newcastle United fans killed in the Malaysia Airlines plane crash has been held at St James' Park.
Friends, relatives and other supporters gathered next to the Sir Bobby Robson statue to pay their respects to Liam Sweeney and John Alder.
A poem was read out and there was a minute's applause.
Newcastle manager Alan Pardew has already said the forthcoming season would be dedicated to the pair.
Mr Alder, 63 and Mr Sweeney, 28, were travelling on flight MH17 to see Newcastle play in a pre-season tour of New Zealand, when it came down in Ukraine on Thursday.
Mr Sweeney's father, Barry, described the response in Newcastle as "absolutely incredible, absolutely amazing".
"He's got a lot of great mates," he said.
"He'll be having a pint in the sky with John there and they'll be looking down thinking 'bloody hell, me, us'."
Mr Alder's family said in a statement: "We we are touched and moved by your kind words, acts and the knowledge that so many people saw John for who he was: a kind, courteous man who was much loved as a son, brother, uncle and fan.
"Newcastle United was his life and we are proud of his dedication to the team."
Liz Luff, from the Sir Bobby Robson Foundation, said: "The atmosphere was incredibly emotional. I've not experienced anything like it.
"It is a wonderful way to remember the pair and it has been very special."
Malcolm Pegg, who knew both men and spoke at the memorial, said: "I think it was a fitting tribute for an impromptu gathering.
"Hopefully, the bodies will be returned to Newcastle and we can pay a more formal tribute to Liam and John."
Speaking before the event, Mr Sweeney said: "Mr Putin and all the other big boys - please do something about it.
"Please get our kids back. It's not their war and they didn't deserve to be there."