Mont Blanc mountaineer Simon Bates' death 'accidental'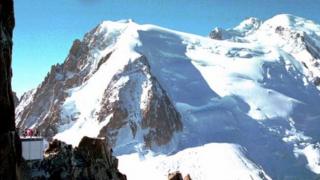 A mountaineer and adventurer who fell 1,000ft (305m) after scaling Mont Blanc died as a result of an accident, a coroner has found.
Simon Bates, 30, from Gosforth, Newcastle, lost his footing while descending Europe's highest peak, near Chamonix, France, last September.
A helicopter was sent to the scene and his body was recovered by the crew.
Coroner David Mitford recorded the verdict following an inquest at Newcastle Civic Centre.
No family members were present for the brief hearing.
As well as climbing the 15,781ft (4,810m) peak, Mr Bates had travelled extensively throughout the world, climbing in Australia, skydiving from 12,000ft (3,658m) and exploring the Grand Canyon.
His family have set up the Simon Bates Foundation to help charitable projects in the UK and abroad.