'Extinct' corncockle flower found near Souter Lighthouse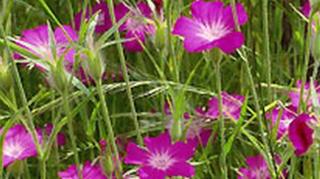 A poisonous flower which was thought to have been extinct in the UK has been found growing in South Tyneside.
A single purple corncockle was found growing near Souter Lighthouse in Whitburn, Sunderland, by National Trust assistant ranger Dougie Holden.
The flower was common in wheat fields before it was wiped out by modern farming methods.
Mr Holden said: "We hope it brings people in, as long as they don't touch it."
The plant is filled with a poison that can cause stomach pain, vomiting, diarrhoea, dizziness, slow breathing and even death.
Mr Holden said he confirmed the flower's identity after checking dozens of wildflower books.
"I had a very good idea what it was, because I have tonnes of wildflower books, but I was not 100% certain until I checked," he said.
He believes the corncockle seed may have been churned up by an emergency vehicle on an exercise last summer, having lain dormant under the surface for years.
The National Trust hopes the plant will re-establish itself at the site over the coming years, after the flower's seeds fall this summer.