Green Deal complaints lead to Tivium refunds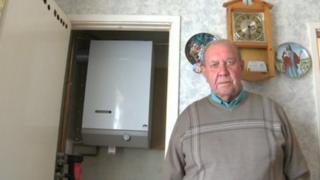 People who said they were let down by a firm offering services under a government energy saving scheme are to get refunds after a BBC investigation.
Gateshead-based Tivium Limited charges up to £299 to assess homes for improvements including new boilers as part of the government's Green Deal.
But after the BBC highlighted delays, three customers have won refunds.
Tivium has blamed the Green Deal scheme for delays and has agreed to refund fees for three customers.
Under the scheme, households can use loans to spend on energy-saving improvements, such as insulation and new boilers, with no upfront cost.
The customers whose cases were highlighted by the BBC waited up to 10 months and either did not receive assessment reports or failed to have new equipment installed.
Adam Harvey, from Cramlington, Northumberland, received a cold call from Tivium in July 2013 and handed over £199 for his report, which he eventually received. But he has so far been unable to get Tivium to fit a new boiler.
'Teething problems'
Dave Alexander, from Sacriston, County Durham, who paid £299 to Tivium in August of last year, added: "The guy's very words to me were 'Look, we need this £299 to go ahead, but don't worry about it, you can't lose it because at the end of the day if you decide that you're not happy with it you'll get your money returned.'"
He has yet to receive an assessment report.
John Clement from Barnard Castle, County Durham, also paid £299 last August and has so far not received a Green Deal report or new boiler.
After being contacted by the BBC, Tivium offered to refund all of three customers and in the cases of Mr Alexander and Mr Clement, offered a £50 gift voucher.
The firm claims it has a complaint rate of less than 1.5% and blamed "teething problems" with the Green Deal for the delays.
But the company has admitted that of 6,000 Green Deal assessments it has carried out, less than 1% have resulted in equipment being installed.
A spokesman added that it hoped the situation would improve rapidly in the coming months.
The firm is being investigated by STROMA, the organisation that accredits Green Deal installers.
STROMA said it was investigating Tivium Green Deal Installers Ltd and its marketing company Tivium Ltd for potential breaches of the Green Deal code of practice.
Tivium said discussions with STROMA were ongoing and that it was confident they would result in STROMA's "full satisfaction".
The government acknowledges there have been problems with the Green Deal with a low initial take-up, but said more than £16m had been handed out since it was re-launched last month.