'Mr Monkey' blog: South Tyneside Council drops £200,000 action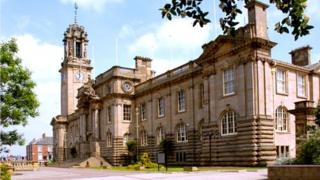 A council which spent over £200,000 trying and failing to identify a blogger making allegedly libellous remarks has abandoned its legal action.
South Tyneside Council won a court case in California forcing Twitter to hand over details of users believed to be connected to the blog "Mr Monkey".
One was former councillor Ahmed Khan. The others are unknown.
The authority said it had a "duty" to protect staff and councillors against "vile and defamatory" statements.
"Taking legal action attracted some criticism but, as a council, we felt it was our duty to mount this challenge in order to protect people from cyber-bullying and harassment," a council spokesman said. "We stand by this principle."
The council said that, since it initiated the legal action in 2009, there had been no new postings on the blog, which is hosted by California-based Wordpress.
The blog made a number of accusations against the council's Labour leader Iain Malcolm, as well as the late Independent and formerly Conservative councillor David Potts, Labour councillor Anne Walsh and head of enterprise and regeneration Rick O'Farrell.
Mr Khan, an independent South Shields councillor between 2008 and 2012, had been suspected by some of being the blog's author, which he has strenuously denied.
His details were among the IP identities, mobile phone numbers and e-mail addresses handed over to the council by Twitter.
At the time Mr Khan admitted being an open critic of some council policies, but described the situation as "Orwellian".
South Tyneside Council confirmed the cost of proceedings to date was £213,734.
It intends to pursue Mr Khan for costs of $97,475 (about £56,900) awarded to the council by San Mateo County Court in California after his failed attempt to have the legal action dismissed.
Councils cannot sue for libel. Any action against the "Mr Monkey" blogger could only be taken by named individuals.