Anne Lakey trial: Head teacher thought sex claims a 'hoax'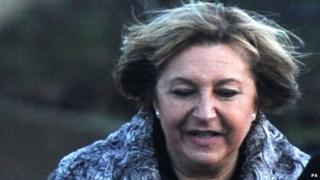 A teacher accused of sex offences against a 13-year-old boy has told a court she thought the allegations were "a hoax".
Anne Lakey, now a head teacher, is alleged to have had an affair with the boy, who was not one of her pupils, in the late 1980s.
The 54-year-old, from Stanley, County Durham denies charges of indecency and indecent assault against a child.
She said she was horrified when her accuser emailed claims to her school.
Ms Lakey told Durham Crown Court she believed the message from the alleged victim was a hoax, and said no abuse had taken place.
'Seduced in uniform'
The married mother of one denies four counts of indecency with a child under 14 and five counts of indecent assault against a child under 16.
The charges relate to the same boy, who was one of a group who would visit her home, the court heard.
The complainant claims she seduced him in his school uniform after allowing him to watch her bathe.
Ms Lakey, chief executive of the Durham Federation of Schools, denies ever being alone with the boy.
The court heard that in December 2012, he spotted Ms Lakey's picture on the internet, read a blog about her educational beliefs and, in anger, sent a message to the school.
Julie Clemitson, defending, asked how she reacted to the email.
The defendant replied: "When I was first made aware, it was just utter disbelief. It was not true, therefore I was shocked and horrified.
"My chair of governors was on site. I called him in."
The trial continues.