Newburn flood flats: Newcastle's Spencer Court residents returning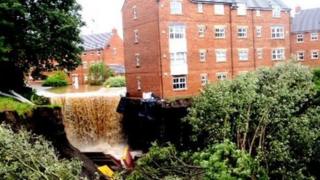 People evacuated from their homes two years ago following heavy flooding on Tyneside are returning to their properties.
The first group of residents at Spencer Court, Newburn, Newcastle, left their flats in June 2012.
More had to move out that September after foundations suffered damage.
Developer Dunelm Homes and its insurers now intend to sue The Northumberland Estates, which owns the land where a collapsed culvert stood, for £8m.
The company said it had spent more than £2m dealing with the problems caused by the flooding and anticipated it would need a further £2m, along with an additional £4m paid out by the insurance company.
A spokesman from The Northumberland Estates said it would not comment on the proposed action but added everyone was delighted residents were finally moving back in.
Ian Best, of the Spencer Court Residents' Association, said: "It has been two years almost to the day since the original evacuation of Spencer Court.
"Fourteen of the original 32 owners have since lost their homes completely and now the remaining 18 are on the brink of recovering their properties and, for many, their lives."
Fellow resident Derek Stevenson said: "I think it's one of the safest places going with all the work they've done."
A culvert collapse in May 2012 led to the build-up of rainfall in a nearby valley which then flooded Spencer Court the following month.
Further flooding in September saw the ground around the foundations of Block E swept away.
Block E was demolished in October 2012 with Block B following in January 2014, while the remaining ones underwent extensive repairs.
Neither The Northumberland Estates or Dunelm Homes have admitted liability.