Ovingham road bridge to close for up to a year for repairs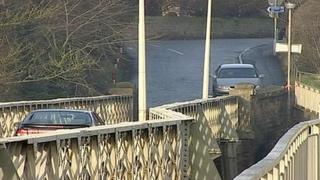 A Northumberland road bridge is to be closed for up to a year for essential repairs.
Ovingham Bridge, which links the village with Prudhoe across the River Tyne, will close on 30 June so that the essential work can be carried out.
The single-lane steel and timber structure, which was built in 1883, carries about 5,000 vehicles a day.
Northumberland County Council will carry out the £3m refurbishment of the existing roadway and lattice trusses.
An adjoining pedestrian bridge will remain open.
The bridge had to be closed during flooding in 2005 and 2012.
The county council has advised motorists to travel via Wylam bridge and Crawcrook while Ovingham Bridge is closed.