Kielder disability charity fund seeks new recipients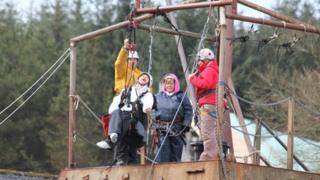 A disability charity awarded government funds to help military families says not enough are taking up the offer.
The Calvert Trust at Kielder Water and Forest Park got £60,000 in the latest tranche of George Osborne's Libor Fund, to be spent over two years.
The trust has spent £13,000 of this year's allocation on 13 families (52 people) but still has £17,000 of funds left to distribute.
Chief executive Peter Cockerill said he expected a "more heated response".
"I think there's a view among some that they want to paddle their own canoe and don't want outside help to come in," he said.
"These people have been trained to be independent and to be leading a purposeful life and I think, like all of us, can find it difficult when somebody offers a helping hand, to take that hand."
The fund subsidises three-day activity holidays.
To be eligible a family must have both a serving or retired member of the services and someone with a disability, not necessarily the same person.
The trust's centres in Exmoor and the Lake District also share the government grant, totalling £180,000 over two years.
The money for the fund comes from fines imposed on UK banks after the Libor inter-bank interest rate fixing scandal.