Darlington's South Park's swearing parrot Max dies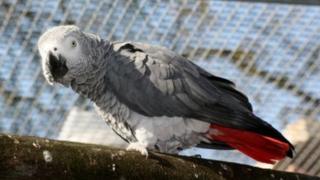 A foul-mouthed parrot who shocked and amused visitors to a County Durham park has died.
Max, an African Grey, was well-known at South Park, Darlington, for his use of swear words.
Staff at the park said they believed he suffered a heart attack.
Having been at the site since 2006, Max was invited to appear on the Paul O'Grady TV show and with chef Gordon Ramsay on his F-Word programme.
Describing him as the park's "star attraction", countryside ranger Deborah Hall said: "We don't really know how it happened.
"But parrots are intelligent, like a small child, and can pick up one or two-syllable words.
"It's a bit like if your four-year-old hears a naughty word at school - they don't know what it means but they say it because they get a big crowd of people around them.
"We never encouraged visitors to egg him on, but I know some people did."
'Salty language'
Despite his outbursts, Ms Hall said visitors were usually more amused than offended.
She said: "People weren't as shocked as we thought they'd be.
"They just saw him as a real character with some salty language.
"He could also mimic the noise of a bin wagon reversing and even a car's central locking, which was very funny."
A wooden sculpture of Max, donated in 2012 by the Friends of South Park, stands in front of the aviary and will be a "lasting reminder of a cheeky chappy", Ms Hall said.