Anne Lakey teacher trial: 'Liaisons were disgusting'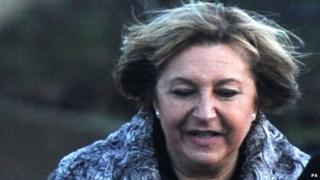 A man who says he was seduced as a 13-year-old by a teacher told a jury he now believed the liaisons were "disgusting and wrong".
Anne Lakey, 54, from Stanley in County Durham, denies charges of indecency and indecent assault against a child.
She is alleged to have had an affair with the boy in the late-1980s.
He was not one of her pupils, but one of a group of teenagers who would visit her and her husband at home, Durham Crown Court heard.
The alleged victim told the court Mrs Lakey was friendly with him and he would visit her alone when her husband was at work.
He said she flirted with him one day and she was dared to expose her breasts.
On other occasions he would watch her bathe, he claimed.
'Ran away'
He told the jury that led to them having sex one day and that on other occasions they had oral sex.
He said: "At the time I knew we shouldn't have been doing it, but it was exciting as well.
"Now looking at it as an adult, I think it is disgusting and wrong."
Mrs Lakey was teaching at a Sunderland comprehensive at the time.
When he told her he did not want to see her any more, he claimed she tried to keep him in her room and told him not to tell anyone about what had been going on.
Feeling trapped, he grabbed something and threw it at her before running away, he said.
Two years ago he saw Mrs Lakey, who went on to become a head teacher, when he was browsing the internet about schools and read that she cared about young people.
He said: "If you care so much about young people you don't go having sex with teenage boys."
The trial continues.