Janet Brown murder: Donald Graham jailed for 32 years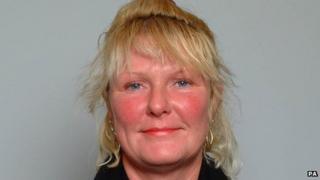 A "controlling and manipulative" man who killed his wealthy lover to fund a lavish lifestyle will serve a minimum of 32 years in jail, a judge has said.
Donald Graham, 60, was convicted of murdering Janet Brown, of Hexham, Northumberland in 2005, before stripping her estate.
A judge at Newcastle Crown Court jailed Graham for life, adding he would not be eligible for parole for 32 years.
The body of Ms Brown, a property developer, has never been found.
Graham, of Sparty Lea, Northumberland, had denied murder but admitted fraud.
The trial heard that after Ms Brown went missing up to £400,000 was transferred from her account to Graham's in the space of a year.
He also sold her Porsche, with personalised number plates, on eBay.
A jury was unable to reach a verdict on co-accused Elizabeth Todd, who denied fraud and perverting the course of justice. She now faces a retrial.
During the trial, the court heard that having disposed of her body, Graham took advantage of the fact that Ms Brown had planned to go abroad by sending fake postcards from France saying she had found a job.
He then befriended her elderly parents, and when they died he went on to strip their estate of £285,000 before trying to get hold of their £300,000 farm.
It was only when a building society clerk raised suspicions over a signature on a document that a fraud investigation began.
It later became a missing persons inquiry, and eventually a murder investigation.
Ms Brown's body has never been found, despite an extensive search of farmland close to Graham's home.
Sentencing, Judge Justice Openshaw said: "He was once a JCB digger driver, he could have disposed of her in some deeply-dug pit or put her down one of the many mine shafts in the area, or buried her in some wild and remote place.
"That he disposed of her body is obviously an aggravating factor."
He added that the fact that the murder was driven by financial gain was another aggravating factor.
"All these offences were made possible only by the murder and he used the money to fund his extravagant and flashy lifestyle", he said.
"The defendant has been convicted of a terrible offence, and must now pay the price."