North East welcomes Queen's Baton Relay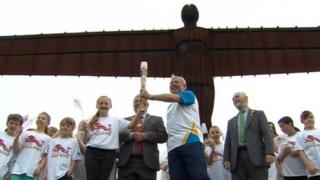 The Queen's Baton Relay visited the north-east of England on its way around the UK ahead of the Commonwealth Games in Glasgow.
Great North Run founder Brendan Foster kicked off the tour of the region at the Angel of the North in Gateshead.
The baton headed to the quayside and Olympic champion Jonathan Edwards then took it to Walker Activity Dome.
It has visited 70 nations so far and is currently travelling around the UK before reaching Glasgow on 23 July.
Mr Foster said: "For it to actually come here on the last leg of the international part before it goes to Scotland where the games are going to be held, is fantastic.
"It's all about planting the seeds for the future because what you really want is some kids sitting there watching it on TV seeing our involvement in the baton at the Angel of the North and watching the athletics, the cycling and the swimming, and saying 'I'd like to do that'.
"It's a fantastic event."
Ciara Madin from Newcastle was chosen to escort the baton from Gateshead's Millennium Bridge.
The youngest member of Newcastle Youth Council she said she was "rather nervous but excited".
To end the baton's tour, an evening celebration was held at Alnwick Castle where pupils from across the region played a game of Quidditch.
The relay was launched by the Queen at Buckingham Palace last year.
It has been the Commonwealth Games' curtain raiser since 1958.