Two teenagers held after Newcastle University 'controlled explosion'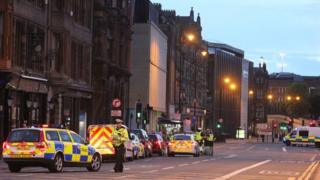 Two teenage students have been arrested after a university was cleared and a controlled explosion carried out.
Suspicious items were found in the INTO language unit at Newcastle University, and the centre was evacuated.
Northumbria Police said two Russian students, both 18, had been arrested in connection with the incident on Tuesday and were in custody.
A spokeswoman would not say what alleged offences the men were being questioned about.
A bomb disposal team performed a controlled explosion on the Town Moor in the early hours.
Dr John Hogan, university registrar, said the university was "safe" and had excellent security measures.
The university campus has now reopened.
A police statement said: "We can confirm both men arrested are Russian students studying at Newcastle University. Both men remain in police custody.
"We are working closely with Newcastle University to reassure students and staff. There is currently no cause for concern for students and the wider community."
In a statement Dr Hogan said: ""Following last night's events we'd like to reassure staff and current and prospective students that our main campus is open as usual today. We would reiterate that our campus is very safe.
"We have excellent security arrangements in place and that allowed us to deal with the issue very quickly.
"As always, our student wellbeing service is on hand to provide students with any help and advice they may need."
Newcastle University caters for more than 22,000 UK and international students and has 1,200 academic staff.
The INTO Centre offers facilities for more than 700 mainly international students and is spread over four floors.