Campaign to buy 'Lindisfarne hoard' for Great North Museum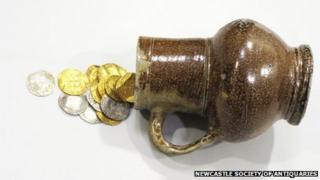 A group is hoping to buy a collection of gold and silver coins unearthed by a builder 11 years ago.
Richard Mason found a pottery jug while renovating a house on the island of Lindisfarne, Northumberland, in 2003.
But it was not until 2011 he realised the jug contained 17 rare coins.
An inquest has declared the hoard to be treasure and Newcastle's Society of Antiquaries wants to raise an estimated £31,000 to keep it in the region.
The 10 gold and seven silver coins span the reign of six English sovereigns and several European states with one - a gold scudo of Pope Clement VII, who refused to annul the marriage of Henry VIII to Catherine of Aragon in the 1520s - thought to be worth about £30,000 alone.
The oldest coin is a silver groat of King Henry VI, minted in the late-1420s or early-1430s, and the latest is a silver sixpence of Queen Elizabeth I, minted in London in 1562.
'Remarkable discovery'
The society wants the collection, which is currently with the British Museum, to be permanently displayed at the Great North Museum in Newcastle and has mounted a campaign to raise the necessary funds.
Dr Rob Collins, the portable antiquities finds liaison officer for the North East, who was originally approached by Mr Mason, said: "This is a remarkable discovery and in light of the recent success of the return of the Lindisfarne Gospels to the region, it would be very sad to see this treasure leave the North East."
Dr Sarah Glynn, manager of the Great North Museum, added: "This is a once-in-a-lifetime opportunity to preserve and retain part of our region's fascinating history."
Lindsay Allason-Jones, keeper of collections for the Society of Antiquaries, said: "As Lindisfarne in the Elizabethan period was used largely as a military garrison and supply base, it is possible that the original owner of the hoard was a military officer who had seen service on the continent."
In 1963, Alan Short, from Seahouses, found a hoard of 50 Elizabethan silver coins in almost the same spot on Lindisfarne - also known as Holy Island - which is also housed at the Great North Museum.