'World's youngest' heart op baby Tiarna Middleton dies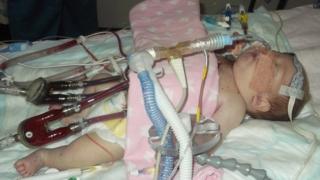 A baby who was believed to be the youngest in the world to be fitted with an artificial heart has died.
Tiarna Middleton, from Rowlands Gill, Gateshead, was born on 22 May but her coronary arteries had failed to form.
Aged 12 days, she was given a Berlin Heart which takes over from the heart and helps to pump blood around the body.
Following the operation last week, she suffered complications and died on Monday.
Doctors at the Freeman Hospital in Newcastle had carried out a nine-hour operation to fit the device which operates outside the body.
It was hoped the artificial heart would keep her alive until a donor heart became available.
Her parents, Gary Middleton and Sharney Gray, had said they were taking things "hour by hour" following the procedure.
Writing on Facebook earlier, Ms Gray said: "My little princess became an angel last night.
"She took her wings early and went to be with her grandad."
Other children have previously been kept alive for more than 200 days on the specialist devices, which work by helping the right ventricle of the heart to pump blood to the lungs and the left ventricle to pump blood to the body.