Sunderland's Roker Pier set for further restoration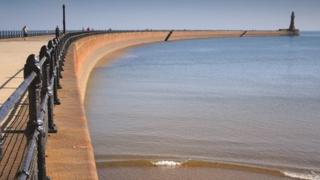 A Grade II-listed pier is set for further restoration due to frequent damage caused by more than a century of battering by the sea.
Sunderland's Roker Pier opened in 1903 and has never been fully restored.
Sunderland City Council announced a £1.35m restoration project last year, starting with refurbishment of the lantern house in the lighthouse.
The next phase, beginning on 23 June, will involve resurfacing, pointing and below-water repairs.
The pier will be closed while the works go on. The council said it was due to reopen by the end of the year.
The structure has undergone frequent repairs over the years as a result of sea damage.
The council's cabinet secretary, Mel Speding, said: "Roker Pier is one of our best-loved landmarks, but there are only so many times you can carry out repairs.
"We've now got to the stage where we need to replace the entire surface to protect the pier for future generations to enjoy."
The council has also bid for Heritage Lottery funding to restore the lighthouse and pier tunnel, so it can open them for public tours.