Kielder Forest osprey chick trio hatch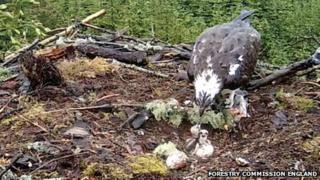 Three osprey chicks have hatched at Kielder Water and Forest Park.
The birds were reintroduced there in 2009 after an absence of more than 200 years.
Last year, four chicks fledged in the Northumberland park and two breeding pairs have returned to the site after wintering in Africa.
Spokeswoman Janine Scott said staff were "thrilled" with the arrival of the chicks and were watching the remaining eggs very closely .
"Everyone involved is delighted that the ospreys return year on year but we always wait with baited breath for their eggs to hatch," she said.
The Forestry Commission, which manages the site, has installed a webcam so the public can view the birds' progress.