Jet2 Paphos to Newcastle flight makes emergency landing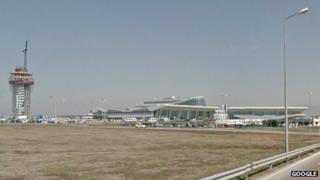 A flight carrying passengers back to the UK from Cyprus made an emergency landing in Bulgaria.
One passenger said the cabin lost pressure and oxygen masks came down as the Jet2 plane from Paphos to Newcastle was diverted to Sofia on Wednesday.
Passengers arrived in Newcastle on a replacement aircraft at about 04:15 BST, Newcastle Airport said, having been due at 20:25 on Wednesday.
Jet2 apologised for any inconvenience caused to passengers.
Passenger Vicki Standing told BBC Look North: "We got the shock of our lives when oxygen masks were operated on the flight.
"We were told we had lost cabin pressure."
The airline would not give any further details of what it called a "technical problem", but said the plane was diverted as a precaution.