ONS 'disposable income' figures: North East lowest in England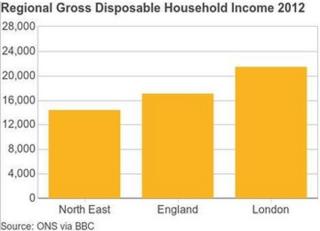 People in the North East have the lowest but fastest growing incomes in England, new figures from the Office for National Statistics (ONS) show.
The statistics show gross disposable household income (GDHI) per head - income after tax and benefits have been taken into account - in 2012.
The North East had the lowest in England with £14,393, compared to an England average of £17,066.
But the region's figure grew 4% from 2011, the biggest increase in the UK.
The North East's GDHI per head has grown consistently since 2008, taking into account inflation.
'Lower cost of living'
The only recent year in which it fell was 2007, the same year as the run on Northern Rock and the start of the financial downturn.
James Ramsbotham, chief executive of the North East Chamber of Commerce, said the region's employment levels and contribution to the UK economy had also increased in 2012.
He said: "As such, it's not too surprising to see a rise in disposable income levels.
"It must be acknowledged however, that when it comes to wages the North East starts from a lower base point, but we also enjoy a lower cost of living."
London was the area with the highest GDHI per head, at £21,446.
Northern Ireland had the lowest figure in the UK, at £13,902.