Cragside Scots pine tree is 'tallest of its kind' in UK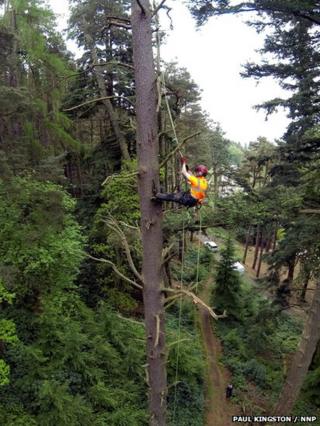 A tree in Northumberland is the tallest known of its kind in the UK, according to a tree charity.
The Tree Register, which keeps a national database of notable trees, said a Scots pine at Cragside, near Rothbury, was the tallest recorded example of the species at 131ft (40m).
Cragside is a country estate, featuring an extensive garden and woodland.
The property's owner the National Trust said the tree had been planted in the latter half of the 19th Century.
The Tree Register measures trees' height using laser technology.
Scots pine is a conifer native to northern Europe, widely used for timber and abundant in Scotland's Caledonian Forest, according to the Woodland Trust.
Chris Clues, Cragside's tree and woodland manager, said: "We're absolutely thrilled, if a little surprised, to have the UK's tallest Scots pine."
Mr Clues has climbed the record-breaking tree.
"It's a challenging and rewarding tree to climb. It's a truly breathtaking tree," he said.
The Cragside house and garden was developed in the 1860s by Lord Armstrong, who pioneered the use of hydro-electricity at the property.
A Douglas fir in Reelig Glen, near Inverness, is Britain's tallest tree at 217.10ft (66.4m), according to Forestry Commission Scotland.