Asbestos delays reopening of Tyne pedestrian tunnel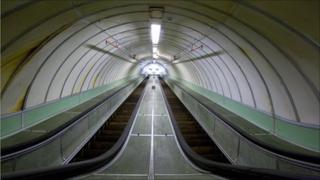 The planned reopening of the Tyne pedestrian and cycle tunnel has been further delayed so dangerous asbestos can be removed.
The Grade II-listed structure, which connects Howdon and Jarrow, closed for a £4.9m refurbishment in May 2013 and was due to reopen this summer.
But after asbestos levels were found to be higher than expected, it will not now reopen until at least June 2015.
A free shuttle bus will continue to operate during the closure.
Project director Paul Fenwick said: "Once we decided to fully address the asbestos and corrosion issues, we believed the works could be completed by February or March.
"When the bids came back from prospective specialist contractors it became obvious that the works would take longer than we had originally hoped.
"The alternative transport measures we put in place have proved highly successful and will continue until the tunnels reopen."
One of the features of the refurbishment will be the replacement of two of the original wooden-step escalators with inclined lifts.