South Shields £100m revamp plans unveiled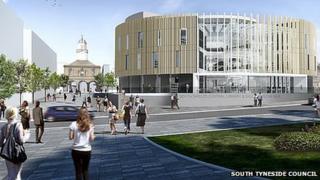 Residents and businesses in South Shields have been given more details about a £100m revamp of the town that is expected to take 10 years to complete.
Initial plans, centring on the Market Place area, have gone on show for the first time.
They include the construction of a new library and digital media centre that is due to begin in early 2015.
The plan - South Shields 365 - also includes a cinema and culture centre.
As well as new shops, the plans include a Metro and bus interchange and car parking improvements.