Beamish's Heritage Lottery Fund cash bid boosted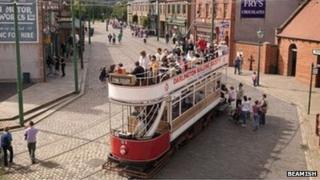 A museum's bid for £10.7m lottery funding has taken a step forward with more than £600,000 to help develop the application.
Beamish, in County Durham, has drawn up plans for a 1950s-style town as well as a therapeutic day centre for people with dementia and accommodation.
Bosses hope the scheme could help attract thousands of extra visitors.
The Heritage Lottery Fund will decide whether to award the full grant in 2015 once a final plan has been submitted.
The centrepiece 1950s town and farm is intended to tell the story of a period still in living memory.
It would be filled with objects and buildings donated by local people.
Ivor Crowther, head of the Heritage Lottery Fund, North East, said: "The UK's largest open-air museum, Beamish is one of the North East's most popular attractions and of national historic importance."