Talks to avert Metro strike on night of One Direction show break down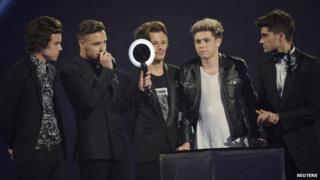 Talks to avert a Metro strike on the night of one of the North East's biggest pop concerts have broken down.
More than 50,000 people will be at the Stadium of Light in Sunderland on Wednesday, 28 May to see One Direction.
The strike has been called by members of the RMT union after a worker was sacked by the Metro's German operators, DB Regio, for a "poor sickness record".
DB Regio said it will still run "high-frequency services" to and from the show.
Trains are set to run every five minutes between Newcastle and Sunderland - more than on a usual week night.
Limited services will operate across the network through the day.
Metro managers have met with union representatives, as well as Northumbria Police and Sunderland City Council to devise a contingency plan.
Sharon Kelly, customer services and operations director at DB Regio, said: "We hope to continue talks and reach a successful resolution."
'Pure coincidence'
It is understood the staff member who has been sacked is in his 50s, works at the Metro depot and has had a number of periods of sickness absence in recent years.
RMT Acting General Secretary Mick Cash said: "RMT has made it repeatedly clear we will not tolerate a situation where procedures are used and abused as a mechanism for bullying and harassing staff, or, as in this appalling case, for kicking them out of their jobs."
The union said it was "pure coincidence" that the One Direction concert and the strike could fall on the same day.
It previously staged industrial action when Coldplay performed at the Stadium of Light in June 2012.
A planned strike on the night Bruce Springsteen was to play at the venue later that month was averted.