Abbie Keers, 9, bottle attack admitted by Stanley man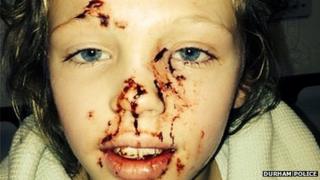 A man has admitted throwing a glass bottle which smashed through a car window badly injuring a nine-year-old girl.
Abbie Keers, of Stanley, was showered with glass and needed surgery after the attack on 14 February.
Matthew McCrea, of Tyne Vale, Stanley, admitted assault occasioning actual assault at Durham Crown Court.
The case was adjourned until 30 June to decide whether the attack was carried out intentionally.
Judge Simon Hickey said the Crown Prosecution Service (CPS) would decide if it should accept the guilty plea on the basis that McCrea did not aim at the car.
If the CPS rejected that version of events, it would go before a Newton hearing, whereby the judge would need to resolve the factual issues between the prosecution and defence.
Abbie was a front seat passenger and with her grandmother Sarah Webb, mother Clare Webb and sister, three-year-old Lexi, when the bottle was thrown from the entrance to a pedestrian subway on the A693 in Stanley, County Durham.
She needed surgery to remove glass from her face and suffered severe cuts.