'Paradise Window' completes Brancepeth church rebuild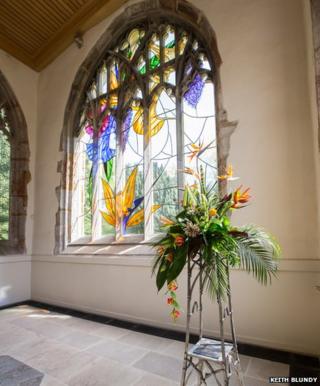 The dedication of a stained glass window marks the completion of the restoration of a County Durham church 16 years after a devastating fire.
St Brandon's, in Brancepeth, dates back to the 11th Century, but was reduced to a shell by the blaze in September 1998.
It reopened in 2005, and the last piece of restoration work was the installation of the Paradise Window.
The Bishop of Durham, the Right Reverend Paul Butler, attended the dedication ceremony.
The window shows part of the story of St Brandon - or Brendan - known as Brandon the Navigator.
The Reverend Rick Simpson, St Brandon's priest-in-charge, said: "Many legends grew around Brandon/Brendan's original navigating, some perhaps anchored in real events, while others slipped their mooring from history altogether.
"Within the book is a story of him discovering a paradise island, with beautiful and exotic flowers and birds.
"Our new window design picks up on this, and seeks to convey a vision of that paradise."
He added: "We did not want the window to be a memorial of the fire, nor a monument to the past of St Brandon's, but something that allows us to look forward."