Luke Pearce: Students aid search for missing man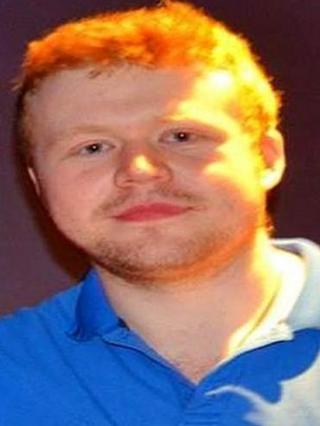 Durham University students have joined in the search for a man who went missing after a night out in the city.
Luke Pearce, 19, was reported missing by university officials late on Sunday.
He was out drinking with friends on Saturday night and was last seen walking along the river bank towards the Maiden Castle area.
Durham Police said more than 20 friends of the popular university rugby player, from Hounslow in west London, had volunteered to aid search teams.
Police have classed his disappearance as "high risk".
He is described as 6ft 2in tall with short ginger hair and was wearing a blue polo shirt, blue jeans and white trainers.
Prof Graham Towl, pro vice-chancellor of Durham University, said: "We are very concerned for Luke's safety.
'Out of character'
"The students came to us and asked if there was anything they could do to help with the efforts to find him, and so we approached the officers leading the search to see how best they might be able to assist.
"Over 20 students will join officers to help try and locate Luke, following a full safety briefing from the police."
Ch Insp Andy Huddleston added: "We remain very concerned for Luke as this is completely out of character and there has been no trace of him since early hours of Sunday morning.
"We are appealing for a couple who were seen walking along the river bank from Baths Bridge towards the bandstand at around 1.30am on Sunday morning to get in touch, as it is likely that they would have passed Luke.
"We don't believe this couple were in any way connected with Luke's disappearance, but think they were the last people to see him on the night and could have crucial information about his whereabouts."