Luke Pearce: Major search of River Wear for missing student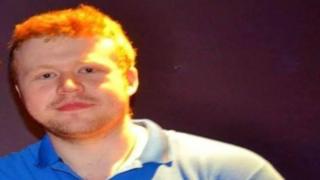 Police are searching areas around the River Wear for a student who went missing on a night out.
Luke Pearce, 19, was reported missing by Durham University on Sunday night.
He was out drinking with friends on Saturday and was last seen at about 01:30 BST, walking along the river bank towards the Maiden Castle area.
Mr Pearce, from Hounslow, London, is described as 6ft 2in tall with short ginger hair. He was wearing a blue polo shirt, blue jeans and white trainers.
Durham Police have classed his disappearance as "high risk".
River searches are being conducted by Weardale and Teesdale Search and Rescue with assistance from the fire brigade.
Ch Insp Andy Huddleston said: "We are very concerned for Luke as this is completely out of character and there has been no trace of him since the early hours of Sunday morning.
"He hasn't responded to any attempts to contact him and his phone has not been traced."