Codex Amiatinus Bible returns to its home in Jarrow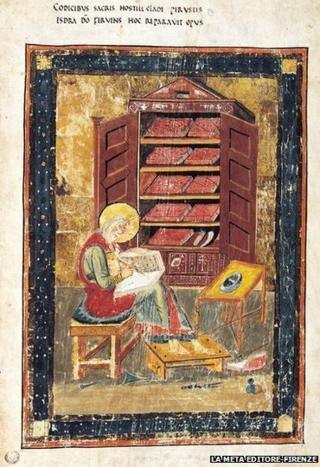 The only full-sized replica in the world of a Bible created more than 1,000 years ago is returning to its home in South Tyneside.
"It's an authoritative statement and it's the best version you can get of the word of God," said Michelle Brown, Professor Emerita of Medieval Manuscript Studies at the University of London.
Written in the monastic scriptorium in the 7th Century, the Codex Amiatinus was one of three single volume Bibles made at Wearmouth-Jarrow.
Made by monks under the direction of Abbot Ceolfrith, they started the project in AD692.
The oldest complete Latin Bible in existence, it was rare to make a single volume Bible as they usually contained a small number of books like the four gospels.
"It is one of the most important copies of the Bible in the world and one of the most important manuscripts made in the British Isles and associated with Venerable Bede and Wearmouth-Jarrow.
"Bible means library and the Codex Amiatinus was making a statement," said Prof Brown.
'Incredible endeavour'
Wearmouth-Jarrow was established in the 7th Century by nobleman Benedict Biscop.
After visiting Rome, he wanted to bring the art and culture of the capital back to his native Northumbria and so established a double monastery complete with library.
It was this great library which became the hub for scholar Venerable Bede.
Abbot Ceolfrith, who succeeded Benedict Biscop as Abbot of the twin monastery, began the "incredible endeavour" of writing the illustrated Codex Amiatinus in AD692 along with the help of six scribes.
Prof Brown said: "It is one of the most important works in history and the Venerable Bede was one of the most important authors of his age.
"An incredible amount of research and scholarship went into it, it's a version of the Bible, it's not just copying it.
"There is nothing in Bede's writing that said he was an artist, he was interested in it but he didn't claim to be an artist, but I bet he had a key role in designing it.
"You can bet your life that Bede was one of the key scholars behind the Codex Amiatinus."
Three copies of the Codex Amiatinus were produced in Latin calligraphy at the monastery.
Two stayed at Wearmouth and Jarrow and in AD716, the third left for Rome with Abbot Ceolfrith and his followers where it was intended to be given to Pope Gregory II as a gift.
Abbot Ceolfrith died on route in France, but his dream was fulfilled and the book was taken by some of his followers on to Rome.
Some years later, it was rediscovered in the monastery of San Salvatore in Italy before being moved to the Laurential Library in Florence where it can be found today.
The other two copies have been lost.
'Nation's ambassador'
Thought to be the work of Italians, its Northumbrian origin was not discovered until the 19th Century when it was revealed that the dedication page had been altered.
Prof Brown said: "Everyone thought it was written in Italy as it championed the late antique world and people didn't think it could have been written here.
"Ceolfrith is saying we'll show you we can do it far better than you can. It represents Bede and Ceolfrith and everybody else talking part in transmitting the Bible from one generation to the next.
"It is one of the major landmarks in the history and culture of that time. It's such an amazing and big book and it's making a big big symbolic statement."
The Codex Amiatinus weighs more than 34kg (75lbs) and each page is made from vellum which would have came from hundreds of calf hides.
Only one remains and over the decades some parts of the book have been found in the most unusual of places including in a junk shop in Newcastle and in a National Trust property.
Now, the only full-sized replica of the book is returning to its home in Jarrow.
From Sunday, the Codex Amiatinus will be on display at Bede's World.
Prof Brown said: "It is important for people in Northumbria to learn their culture.
"There have been scaled down replicas and one off pages reproduced but to have a full-sized replica is as close as it gets.
"Physically being able to see it gives you a sense of what an icon it is and all of the rich referencing of the ancient world in that era.
"It's the first time people here can see the impact of how big it is and how much commitment and time the research would have taken.
"It is so incredibly beautiful and written and illuminated with such beautiful writing and research.
"It's an ambassador for the English nation."
The Codex Amiatinus is on display at Bede's World until 21 September.