Janet Brown case: Donald Graham 'murdered wealthy lover'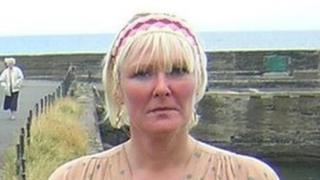 A man murdered his wealthy lover before concealing her body and stripping her estate, a court has heard.
Janet Brown has not been seen since 2005 when she "disappeared off the face of the earth" after saying she was travelling to France for a holiday.
Donald Graham, 59, denies the murder of Ms Brown, who was aged 45 and living in Hexham, Northumberland, when she was last seen.
Mr Graham used her money to buy another girlfriend a home, jurors were told.
Newcastle Crown Court heard that Ms Brown was supposed to be travelling to France with Mr Graham, of Elsdon Avenue, Seaton Delaval in Northumberland.
However, after he said he was unable to go because his wife was ill, she decided to travel alone.
Postcards from France
Robert Smith QC, prosecuting, said: "Donald Graham knew Janet Brown had a significant amount of money in a bank account under her name.
"He wanted that money so he could live a lifestyle that involved owning and driving powerful motor cars and to buy a property for Elizabeth Todd [a new girlfriend] to live in."
Mr Smith told the court that Mr Graham sent postcards from France to Ms Brown's parents, pretending to be her and saying she had found a job in Europe.
In addition, he gained the trust of the couple, who were elderly and in poor health.
While visiting, he gained access to Ms Brown's bank documents.
When her parents died he arranged their funerals, but did not inform any relatives.
Instead, the prosecution alleges, he obtained a death certificate in order to defraud their estate.
Ms Todd, 51, also of Elsdon Avenue, is on trial accused of forgery, conspiracy to commit fraud and perverting the course of justice. She denies the charges.
The trial continues.