Newcastle May Day march tribute to Tony Benn and Bob Crow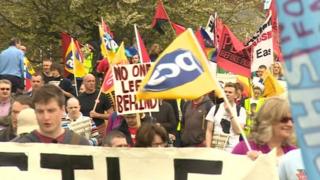 Marchers on Tyneside have paid tribute to leading labour movement figures Tony Benn and Bob Crow.
Scores of people turned out for the Tyne & Wear May Day March and Rally in Newcastle earlier.
Assembling at Princess Square, they moved along Northumberland Street and on to City Stadium in Shieldfield.
Rail Maritime and Transport union leader Mr Crow, 52, died on 11 March. Former politician Mr Benn, 88, died three days later.
Speakers included TUC regional secretary Beth Farhat, deputy general secretary of the National Union of Teachers Kevin Courtney and Fire Brigades Union regional secretary Pete Wilcox.
Music on the march was performed by Backworth Colliery Band.
Martin Levy, chairman of Tyne & Wear May Day Committee which organised the event, said: "We are showing solidarity with working people across the world who are struggling to defend their interests."
A similar event was staged in central London on Thursday.