Durham Police use golf buggies to catch youths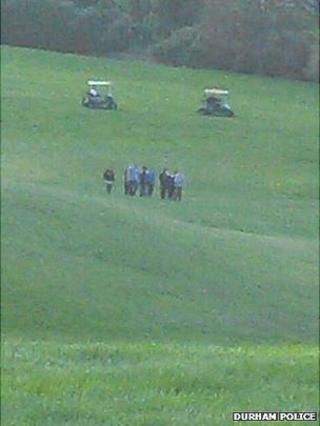 Police used golf buggies to round up teenagers suspected of anti-social behaviour - minutes after launching a campaign to tackle criminal damage.
The Durham officers began a low-speed pursuit across Beamish Park Golf Club after reports of youths barricading a nearby Sustrans cycleway with branches.
They chased the youngsters out of woods where they were hiding and escorted them to a police van.
The group of eight were given a warning before their parents were contacted.
Minutes earlier Supt Kerrin Smith, Sgt Dave Clarke and other officers had attended the launch of Durham Police's Respect Your Street campaign.
After they heard reports of youths breaking branches and using them to block the popular C2C cycle path and throwing things from a bridge, they took to the buggies.
They were given a quick lesson in how to use the vehicles, then drove off across the golf course near where the teenagers had been spotted hiding in woods.
Police Community Support Officers waded across a river, while others joined the pursuit on foot.
Durham and Darlington Police and Crime Commissioner Ron Hogg congratulated the officers, adding: "Excellent work, well done."