Kielder Forest osprey lays egg for sixth consecutive year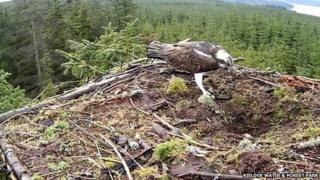 An osprey has laid its first egg of the season at a nest in Northumberland - it is the sixth consecutive year of breeding there.
The birds were reintroduced to Kielder Water and Forest Park in 2009 after an absence of more than 200 years.
Last year four chicks fledged in the park. Two breeding pairs have returned to the site after wintering in Africa.
Forestry Commission ecologist Tom Dearnley, said it was "incredibly exciting" news for the park.
Mr Dearnley, said: "The norm for the females is three eggs, usually laid in intervals of two days, so over the next week we'll be holding our breath for more eggs.
"We all want to see the population thrive and hopefully more osprey families at Kielder.
"The incubation period is about five weeks and once the eggs hatch and the chicks survive their first couple of weeks, there's a strong probability that they will fledge.
"These are incredibly exciting times."
The Forestry Commission, which manages the site, has installed a webcam so the public can view the birds' progress.