John Duncan and Kevin Brown jailed for abusing boys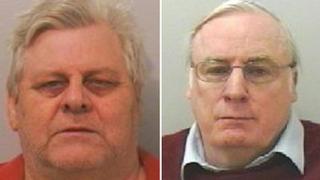 Two men have been jailed for abusing young boys over three decades at two North East residential schools.
Former social workers John Duncan, 61, from Gateshead, and Kevin Brown, 58, already in jail, carried out the assaults in the 1970s, 80s and 90s.
Duncan was jailed for 15 years for assaults at Feversham School in Newcastle and Shotley Park Children's Home in Durham. Both are now closed.
Brown was sentenced to six years in jail for assaults at Feversham.
Duncan was convicted of 15 charges, which included 10 counts of indecent assault and three of indecency with a child, against seven different victims.
Brown was convicted of seven charges, including indecent assault and indecency with a child, also against seven victims.
'Significant courage'
Feversham School dealt with youngsters with behavioural problems, with the mental health charity Mind as its main trustee. It closed in 1996.
Shotley Park was run by the charity Barnardo's and closed in 1986.
Newcastle Crown Court heard the pair took advantage of vulnerable young boys in their care, first gaining their confidence before repeatedly sexually assaulting them.
The Crown Prosecution Service (CPS) praised the courage of victims in coming forward and giving evidence.
Spokeswoman Lynsey Colling said: "At the time of these offences, the victims were all vulnerable young children, each of whom Duncan and Brown had a professional obligation to protect.
"Despite the impact that those events had on each their victims, they have shown significant courage in assisting this prosecution."
Det Supt Steve Wade, of Northumbria Police, added: "These man preyed on vulnerable young boys, abusing their positions as people in authority and trust.
"It has been extremely difficult for the victims involved and I would like to commend them for their courage in coming forward."
A spokesman for Barnardo's said: "We are profoundly saddened by this case and our deepest sympathies go out to those who have suffered.
"John Duncan was in a position of trust and he abused it. The suffering he caused is immeasurable."
Paul Farmer, chief executive of Mind, said: "We are appalled by the actions of Kevin Brown and John Duncan and the damage and suffering that has been caused to the victims of the abuse and their families.
"We applaud those who have spoken out about what happened."