Mima sculpture captures Teesside's industrial heritage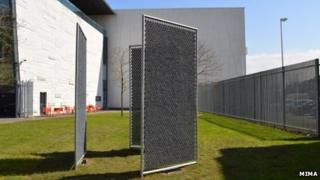 A sculpture inspired by Teesside's industrial heritage has been unveiled.
Created by artist Elpida Hadzi-Vasileva with the help of local residents, the sculpture captures the memories of those living in Middlesbrough.
HA[SOFT]RD, which is inspired by the region's steel industry, was made with ceramic filters which are used to filter impurities when casting metal.
The piece has been unveiled in the garden of Middlesbrough Institute of Modern Art (Mima).
The sculpture emits recorded sounds or stories when a visitor passes through it.
The unusual name for the sculpture was inspired by a quote from Middlesbrough mayor Ray Mallon.
He said: "Middlesbrough's industrial roots are firmly in iron and steel making... but the town also has a long tradition of nurturing culture and the arts.
"Someone once remarked that Middlesbrough people have a hard exterior, but a soft centre, and I think that's a good description."