First Tyne and Wear Metro boss Desmond Fletcher dies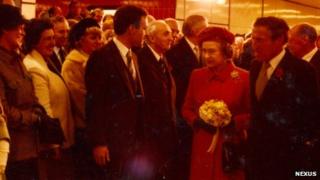 The man who oversaw the construction and opening of the Tyne and Wear Metro has died at the age of 88.
Desmond Fletcher, from Whitley Bay, was director general of the Tyne Wear Passenger Transport Executive (PTE) - now Nexus - from 1976 to 1983.
Building the Metro involved laying of 42 miles (68km) of new track, building viaducts, and digging tunnels under the streets of Newcastle and Gateshead.
Nexus said: "Everyone has been greatly saddened to learn of his death."
Mr Fletcher showed the Queen around Gateshead Interchange during the official opening in November 1981.
Bernard Garner, the current director general of Nexus, described the Metro as a "project that revolutionised the public transport network on Tyneside".
He said: "Many people had thought that a Metro system couldn't happen, but the project became a reality.
"It was an historic moment for our region when the first trains started to run in the summer of 1980.
"We owe Desmond Fletcher a huge debt of thanks for making that happen."