Newcastle air rescue operation provokes cows to stampede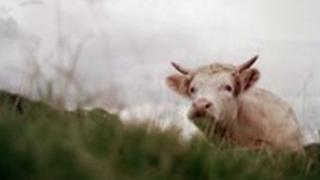 Up to 30 "startled" cows stampeded as an air rescue helicopter came in to land on Newcastle's Town Moor.
A Sea King rescue chopper from RAF Boulmer, in Northumberland, was transferring an injured oil rig worker.
As the landing site was being prepared, the animals ran towards volunteer lifeguards clearing the area.
The injured man, who had severed a finger, was then taken by ambulance to the Royal Victoria Infirmary.
'Started to run'
Peter Lilley, a member of Tynemouth Volunteer Life Brigade, said: "It's our job to just to keep the cows out of the way.
"They normally hide underneath the trees, but the helicopter came in from a slightly different angle and it startled them and they started to run towards where the landing site was.
"It's a big park and there's a couple of different areas the helicopter can land so it didn't really affect the operation from that sense.
"But it meant one of our lads who was standing in his usual position had to get on his feet and get out of the way rather quickly as 30 cows hurtled down towards him."
It happened around 00:45 BST.
Cows are a common sight on the Town Moor, which is used as pasture land.