Monument status for wreck of ship found off Bamburgh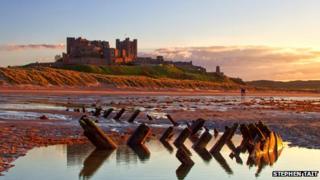 The wreck of an 18th Century ship off the Northumberland coast has been designated a Scheduled Ancient Monument by English Heritage.
The remains of the wooden vessel, which lay about 650m (2,130ft) off Bamburgh Castle, were exposed last year after a tidal surge.
A Maritime Archaeology Sea Trust (MAST) study suggested the vessel dated from about 1770 and was probably English.
The wreck now has added protection, making it an offence to damage it.
An English Heritage spokesman said: "Lost and wrecked vessels of the period 1500 to 1815 in English waters are relatively rare and number fewer than 100.
"Despite the effects of weathering, a significant portion of the vessel survives and it retains a number of key characteristic features.
"It has considerable potential for providing insight into late 18th Century and later boat construction materials and techniques, and for coastal trade during this period.
"The coastal trader was a once prolific and highly significant part of the expansion and development of England's mercantile trade."