RMT rail union protests over East Coast privatisation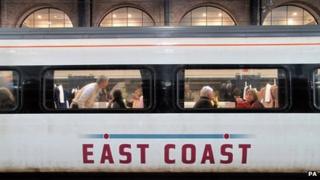 A demonstration against rail privatisation has taken place at an event being held by bidders for the East Coast line.
The Rail, Maritime and Transport (RMT) union protested outside Newcastle's Centre for Life.
The union says East Coast, which is publicly owned, is performing well and should not be privatised.
The government said privatisation had driven improvements across the rest of the network.
East Coast has been running the line between London and Edinburgh since 2009, when National Express gave up the franchise due to financial problems.
More expensive
Bids are now in for the reprivatisation of the service, which is due to take place in February 2015.
The event that the RMT targeted with its protest was being held by Eurostar and Keolis, two of the bidding companies.
The union's acting general secretary, Mick Cash, said: "Privatisation has been a disaster for Britain's railways. They now cost between three and four times more in taxpayer subsidy than the publicly-owned British Rail."
The government's rail minister, Stephen Hammond, said the private sector had brought "skills, expertise and innovative thinking" to the railways and it was time to find "a long-term partner for the East Coast franchise".