Northumberland burial records now 'accurate and correct'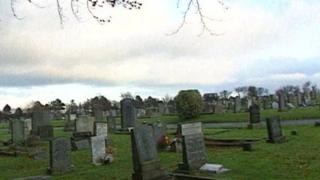 Burial records at two Northumberland cemeteries are now "accurate and correct" following an audit prompted by concerns over plot mix-ups.
In October an investigation commissioned by Northumberland County Council revealed historical inaccuracies.
"A number of graves" established before 2009 in Berwick North Road and Tweedmouth cemeteries were affected.
The council is now looking to introduce an electronic burial register.
Concerns were raised by the authority after it took over management of the two cemeteries from Berwick Borough Council in 2009.
It said it has completed "a huge volume of checks on the records and plots at both locations" which involved contacting families and examining historical evidence covering almost 100 years of data.
'Sorry for distress'
Barry Rowland, executive director of local services at the council, said: "The public can be confident that the records of both these cemeteries are now accurate and correct.
"We understand that this whole process has been upsetting for people affected and we're sorry for any distress caused."
The audit confirmed serious issues with record keeping and poorly completed statutory records.
It also discovered an error with a previously reserved (but empty) plot within one of the cemeteries which the council said had now been resolved with the family concerned.
An independent report has now backed the commitment of the council to ensure public confidence in the cemetery arrangements at the two sites.