Duke of Northumberland sells art to pay floods bill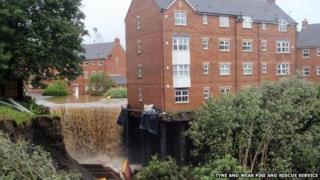 Artwork belonging to the Duke of Northumberland is being auctioned off after his estate was left with a mammoth bill to repair flood damage.
About 80 items from the Northumberland collection are expected to sell for more than £15m.
The duke said the sales were prompted by "momentous" floods at Newburn, Newcastle, where a culvert collapsed and led to buildings being demolished.
Families were forced to move out of their homes in September 2012.
Among the items to be auctioned is a Roman marble statue of Aphrodite, dating to around AD41, which is expected to sell for £6m.
The duke said: "Our overriding responsibility was to help those affected.
"The costs involved in repairing the damaged culvert in Newburn have now been settled, but largely from funds that were destined for maintenance of our historic buildings and projects intended to safeguard the future of the estates."
The auctions, he added, would "replenish" the maintenance fund.
Henry Wyndham, chairman of auctioneers Sotheby's Europe, said the Northumberland art collection was one of the finest in the world.
The duke said all of the items were of "great intrinsic interest" but were chosen so "as to not detract from the overall integrity" of collection.
A block of six flats at Spencer Court in Newburn became unsafe when heavy rain damaged foundations.