The rise, fall and rise of the Tyneside flat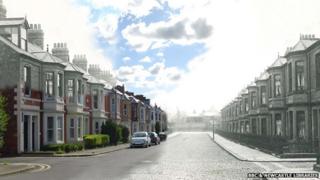 "Tyneside flats" appealed to two London architects so much they are now building the first new versions in Newcastle since World War One. But what are they?
At first glance it could be a standard row of terraced houses. The giveaway is the neat pairs of front doors - one leading to the ground floor, the other opening onto stairs to the flat above.
"You always had to go up and down the stairs to answer the door," remembers Esmee Telford, who lived in Sandyford in the 1940s and '50s. "That got to be a bit of a chore."
Her father, a woodwork teacher with a "mechanical mind", ran a cord through hooks down the stairs to the front door latch. "Pull the string" became family code for "open the door".
"If it was a stranger you had to whip downstairs quickly," Mrs Telford says. "It looked a bit rude if they just opened the door and there was nobody there."
By the mid 1800s Tyneside's industry was booming and its population growing. Old-fashioned houses meant for single, middle-class families were filling up with multiple tenants. Conditions were unsanitary and disease was common.
"When building bylaws came in in the 1860s this was the local response," says Simon Taylor, an architecture investigator for English Heritage.
With separate floors and staircases there was "no communication between them whatsoever, internally or externally", he says. The back yard, divided in half, had separate coal houses and private outside toilets.
It was an "ingenious solution", affordable for the tenant and, with "high density rental incomes", profitable for the landlord, he says.
"It was a time when the sordid grotty back-to-backs that were being built in the 1850s were outlawed in most parts of the country," Mr Taylor says.
England's "elite and ruling classes" were finally beginning to care about the health of their workers.
Land was often sold on the condition only properties with not more than two households were built. Restrictive covenants still exist in some Tyneside flat deeds, limiting the number of families allowed and forbidding extensions to encompass more. Who would now enforce these, or receive any penalty for breaking them, is no longer clear.
"It was a time when building bylaws were brought in across the country for the first time, which actually regulated how houses were designed and where and when they could be built and how many people could live in them and how densely congregated they could be," Mr Taylor says.
While Leeds and Bradford were modifying their back-to-backs, the Tyneside solution "stacked dwellings one on top of the other".
By 1900 half of all homes being built were Tyneside flats. Made to last and easy to extend and adapt, they are still popular.
So much so that a new development in the Ouseburn valley is recreating them - albeit with balconies, gardens and two floors per property. The outside toilets are long gone.
Architects Cany Ash and Robert Sakula were attracted by the double front doors and getting rid of common areas "that no-one looks after properly".
"We're trying to build high-density without going high," says Mr Sakula. He is surprised the "rather brilliant concept" did not spread further.
People who have lived in the originals tell stories of oddly-placed bathrooms, chilly extensions and either loving or hating your neighbours.
Heather White has lived "on this side of the street" for 25 years - a telling turn of phrase that speaks volumes about a community used to living within doors of relatives, often moving little more than a few hundred yards on marriage.
Families often occupied a pair of flats, with parents in one and grandparents in the other. Whether it was the flats themselves, or the way they kept communities close, the result was a lasting affection.
"The only way I'll come out, is out the door, feet first," Mrs White says. "In a box."
You were brought up with noise - either below you or above you - and got used to it, she says. Andy Hughes could hear his 92-year-old neighbour snoring through the floor - perhaps preferable to the noises emanating from the flat below Pam Kirkup.
As a child in the 1950s she remembers an older woman - teeth and husband "mislaid" - bringing home new friends from the pub.
"There was usually lots of raucous laughter and some noises I didn't really understand," she says. "I know my mother used to tut a lot and raise her eyes to the ceiling."
Oz Taylor remembers being frightened to walk around for fear of annoying the landlady downstairs, who "couldn't mind her own business", and having to switch to teabags when she complained their loose leaves were blocking her drains.
As for the old outside loo - he used that to store his drop-handlebar bike.
In the 1900s a landlord might own two flats and either live in one or rent out both. It was only when people started buying them individually that the issue of who was responsible for what emerged.
The common solution is now reciprocal freeholds, with each flat owner, in effect, the other's landlord.
First built in Gateshead and then Newcastle, Tyneside flats spread to Ashington, Sunderland, Barrow-in-Furness, Carlisle, Hartlepool and Berwick, though not in such huge numbers.
Similar styles could be found in Edinburgh and London, though neither were exactly the same, Mr Taylor says and the Tyneside flat remained "overwhelmingly a Gateshead/Newcastle phenomenon".
"It is not entirely clear why flatted housing was not adopted earlier elsewhere," he says.
"The Tyneside flat form was simply a special type - the result of local planning ingenuity when elsewhere, especially in the south and London, builders unimaginatively continued to build existing types of house, even though they were too expensive for individual households to rent outright and would have been divided from the outset.
"People do take them for granted in this part of the country. We need to understand that they are something that no-one else has."