Hadrian's Wall Path National Trail taken over after charity axed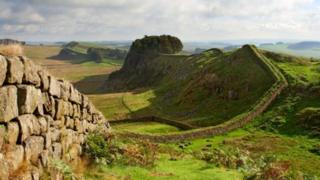 Upkeep of a footpath along a Roman wall is to be taken over after the charity managing it said it was winding up.
The Hadrian's Wall Trust is to close in September because it is unable to raise £170,000 a year in funding.
Northumberland National Park will take over the upkeep of the 84-mile (135km) Hadrian's Wall Path National Trail.
A spokeswoman for the park authority said the trail was popular during the Easter holidays and it would be "business as usual".
She said the authority would not be out of pocket as the new role would be funded by Natural England.
'Beautiful areas'
The trail, running the length of the Unesco World Heritage Site, attracts thousands of visitors each month, but is prone to erosion because of bad weather and the volume of walkers and runners using it.
"The trail passes through some of the most beautiful parts of England - from rolling fields and rugged moorland to the cities of Newcastle and Carlisle," the spokesman said.
"We must now focus on the future and ensure sustainable management is put in place as soon as possible."
When the trust closes, management of the wall will be taken over by English Heritage and local authorities.
Each mile of the wall costs £2,800 a year to maintain.
Hadrian's Wall was a Roman frontier defensive structure built in the years AD 122-30 by order of the Emperor Hadrian.
It runs from Wallsend-on-Tyne in the east to Bowness on the Solway Firth in the west.