Newcastle Theatre Royal fears over Grey Street bar plan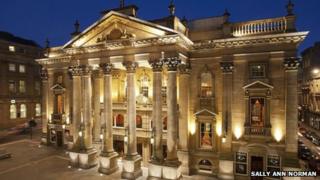 Newcastle's Theatre Royal has hit out at plans to open two new bars.
An application has been submitted to Newcastle City Council to open two late-night clubs almost directly opposite it on Grey Street.
In an email to theatregoers, the theatre said proposing to open the venues until 02:00 BST was "completely inappropriate" on the historic street.
The city council said that licensing applications had been submitted and would be considered on a future date.
A spokesman from the Theatre Royal said staff already had to clean the entrances of "vomit, urine and litter", and two clubs in close proximity would only increase the problem.
Chi Onwurah, Labour MP for Newcastle upon Tyne Central, said: "Newcastle already has many bars and preserving that culture is important, but we have specific areas for that.
"Whether it is appropriate to spread that to Grey Street, I doubt. The theatre is the jewel in the crown of Grey Street and we need to preserve that heritage."
No-one from the companies proposing the new venues could be reached for comment.