Midwives call for North Tyneside maternity unit U-turn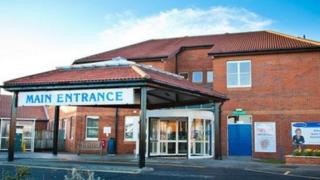 There are calls for health bosses to halt the proposed closure of a midwife-led maternity department on Tyneside.
The unit at North Tyneside General Hospital delivers on average four babies a week, with most women opting to go elsewhere for their deliveries.
North Tyneside Clinical Commissioning Group wants to close it when a new hospital opens in Cramlington in 2015.
The Royal College of Midwives said it offered high quality care, and there was no clinical reason to shut it.
Susanna Cafferty, from the Royal College of Midwives (RCM), described it as a poor decision, which would affect the maternity care of women in the area.
She said it was "flying in the face of government policy".
"Health services need to be telling women about this unit and promoting it, not shutting it down.
"The RCM will be challenging this and seeking a meeting to discuss this as a matter of urgency."
Dr Ruth Evan, from the clinical commissioning group, said it was happy to meet the midwives.
She added: ""We have given very careful consideration to all of the feedback we received before reaching our decision.
"Women have been voting with their feet, with more than 90% already choosing to deliver outside the area."