Elvis hair goes under the hammer in Northumberland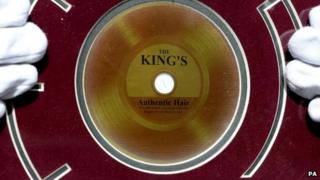 A single strand of Elvis Presley's hair has been auctioned in Northumberland.
The Northern Auction Centre in Wooler, which acquired the item as part of a deceased person's estate, described it as "a rare find".
It was accompanied by letter of authentication from a Thomas Morgan, who said he knew Elvis and was a friend of his hairdresser Homer Gilleland.
The expected price was between £50 and £5,000. It was bought by a local collector for £150.
Jim Railton from the auction house said: "We've never sold Elvis' hair before.
"It's not something you come across every day."