Graphene centre to research 'great British discovery' in County Durham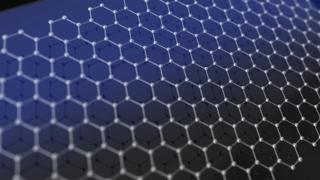 A £14m centre to research the potential of the "miracle material" graphene is being set up in County Durham.
Tougher than steel and more flexible than rubber, the material can be used in products ranging from high-capacity batteries to aircraft wings.
Chancellor George Osborne called it a "great British discovery" which should be commercially developed in the UK.
The Graphene Applications Innovation Centre will be based at the Centre for Process Innovation (CPI) in Sedgefield.
Funding was announced in Wednesday's budget as part of a £222m package of funding for science.
"If Britain isn't leading the world in science and technology and engineering, then we are condemning our country to fall behind," Mr Osborne said.
Graphene was first produced at the University of Manchester in 2004 by Andre Geim and Konstantin Novoselov, who were later awarded the Nobel Prize for Physics.
The material consists of a single layer of carbon atoms in a honeycomb structure and has extraordinary electrical, optical, mechanical and thermal properties.
CPI chief executive Nigel Perry said graphene was a "very interesting material with great promise".
"The new centre will work alongside academic organisations such as the National Graphene Institute, graphene manufacturers and end users, to develop and prove commercial applications for a range of major industries."