Tyne and Wear Metro to get 'quieter' maintenance machine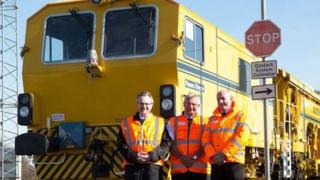 More than £2m has been invested in a quieter, night-time machine to maintain the Tyne and Wear Metro tracks.
Metro operator Nexus said the new tamper, which realigns tracks, is more automated and quicker than the previous vehicle which is 25-years-old.
The new vehicle has been bought as part of the £389m government-funded scheme to improve Metro infrastructure including tracks, stations and trains.
Nexus said the new tamper would mean less noise for people living nearby.
Director of rail and infrastructure for Nexus, Raymond Johnstone said: "We do the bulk of our major track works at night and with this machine being much smoother and quieter it means we can be better neighbours to the thousands of people who live close to the Metro lines."