Thousands of new jobs hope for Sunderland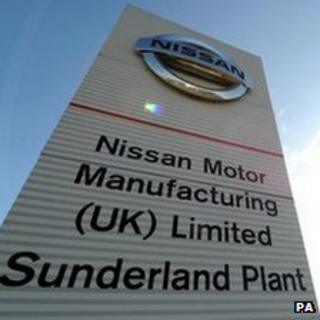 More than 9,000 jobs could be created in Sunderland over the next two decades, it has been revealed.
Sunderland Council has secured money under the government's City Deal programme including £80m for a new bridge over the Wear.
Around £5m will also go towards creating an international manufacturing park near the Nissan car plant.
The Deputy Prime Minister Nick Clegg will visit the plant later and reveal more details of the deal.
Councillor Paul Watson, leader of the council said: "The success of this bid underlines the importance of solid infrastructure investments for achieving economic growth.
"The government has now released the money in a form that allows us to get on and build our bridge.
"The people of Sunderland are now going to get something that they have wanted for 100 years."
A new business district will be also built on the former Vaux brewery site.
The manufacturing park is expected to open in 2027, creating more than 5,000 manufacturing jobs, with more than 500 new jobs being created every year from 2018, it is hoped.
Mr Clegg said: "This City Deal builds on the success of Sunderland's car industry and is a tribute to the workers in the region who are exporting models right across Europe.
"It will build on that success with an advanced manufacturing park to boost the local supply chain, attract further investment and revitalise local businesses and craftsmen, harnessing local skills.